Our faces of care
Our faces of

care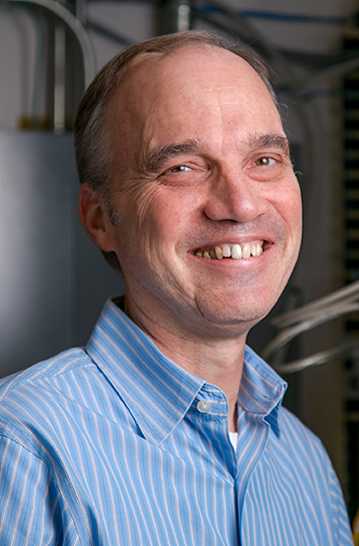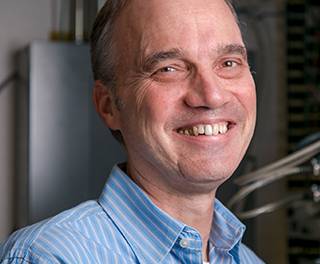 Eric Keller
– Network Specialist-IT, Jackson Health System
When I was looking for a job, a friend suggested I apply at Jackson Health System. He felt that Jackson was a large employer, with great benefits, and a multitude of job opportunities for people who are not clinicians.
I researched Jackson, its mission, and its longstanding commitment to the Miami-Dade community and decided to apply for a job as a computer programmer. I was hired soon after, and have since been promoted to a network specialist.
As a proud member of Jackson's information technology department for more than a decade, helping others is at the center of what I do. Each day is a learning experience, where my colleagues and I gain new knowledge and work together towards advancing technology and improving efficiency throughout Jackson.
I had always heard stories about Jackson's top-notch medical care, and in 2015, I experienced it first-hand.
I was working on a computer at Jackson Memorial Hospital, when I turned my neck and heard a snap. Within seconds, I began profusely sweating, and felt lightheaded. Fortunately, the emergency department at Jackson Memorial Hospital was just steps away.
Moments later, I was rushed in for an angiogram, which confirmed I had a life-threatening ruptured brain aneurysm.
Every doctor, nurse, technician, and therapist who cared for me was incredible. While I beat the odds, it was because of my healthcare team that I was able to leave Jackson Memorial walking, talking, and with no loss of brain function. My coworkers saved my life.
It's the loving environment Jackson provides which inspires me to work harder. Everyone is dedicated towards working within their team and helping with whatever anyone needs. No task is too daunting because of the shared sense of responsibility everyone feels. Everyone at Jackson strives to do better and achieve more each day.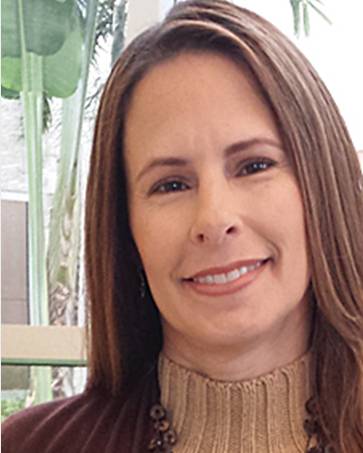 Laura Fuentes
– 30 Years of Service, Case Manager, Jackson South Medical Center
My life at Jackson began in 1985 at the Jackson School of Nursing, where I received the very best training. During my rotations, I fell in love with maternal/child nursing, and knew then there was only one place for me to work upon graduation in 1987 – and that was at Jackson.
My career took off, and I eventually became a parent educator/lactation nurse. With the evolution of case management in the early 1990s, my role changed to OB case manager, when my floor was chosen as one of the pioneer pilot units. This change opened up an entirely new world, which eventually led me to meet my husband, Ralph, also a Jackson "lifer."
I was fortunate to work at Jackson when we started our family, as I was able to have my children at the Debbie School daycare and visit them regularly. When my second pregnancy was deemed a high-risk one, I knew Jackson was the only place for my baby and me. Imagine how advantageous it was to see my OB/GYN every day at work!
When the opportunity arose, I jumped at the chance to transfer to Jackson South Medical Center, where I remain today. By making this move, I was able to partake in many of my children's school activities, because of its close proximity to my home.
Today, it is amazing that I have been with Jackson for more than three decades. I have friends that say, "I wish I would have stayed at Jackson." I don't have to say that because I chose to stay at Jackson, making it one of the best decisions I have made as a Jackson "lifer."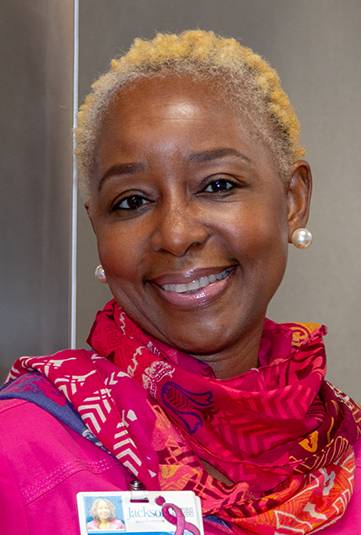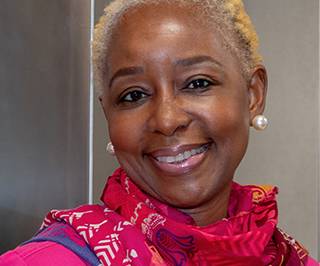 Michelle Mcphee
– 29 Years of Service, Mammography Technician, Taylor Breast Health Center/ Roberta Orlen Chaplin, Digital Breast Imaging Center, Jackson Memorial Hospital
Jackson really is my home away from home. I have worked at Jackson for 36 years, starting in a clerical position and growing into my dream job as a mammography technologist at the Taylor Breast Health Center/Roberta Orlen Chaplin Digital Breast Imaging Center at Jackson Memorial Hospital.
I credit Jackson for providing me with the educational opportunities to excel in my career. But I have also gained so much more at Jackson: a second family in my co-workers who supported me through my own medical challenges.
I was diagnosed with breast cancer at age 28, while I was working as an x-ray technologist in the Jackson Memorial emergency department. I underwent treatment, but the cancer returned four years later in my other breast and I was successfully treated once again. Three years after that, the cancer returned for a third time. At that point, I underwent a double mastectomy and reconstructive surgery. Today, I am proud to be cancer free for 23 years.
During my battle with breast cancer, I encountered endless support from my Jackson family. The health system became a part of my journey, and I felt supported every step of the way.
Having experienced breast cancer first-hand, I offer patients a unique perspective. I understand how scared they are when they come in for a screening. I understand their emotions when they find out they have cancer. I know many of the things they are going through because I went through them myself and can share my story with them. I take pride in helping them, encouraging them, and giving them hope. I know that I'm at Jackson for a reason – and there is nowhere else I'd rather be.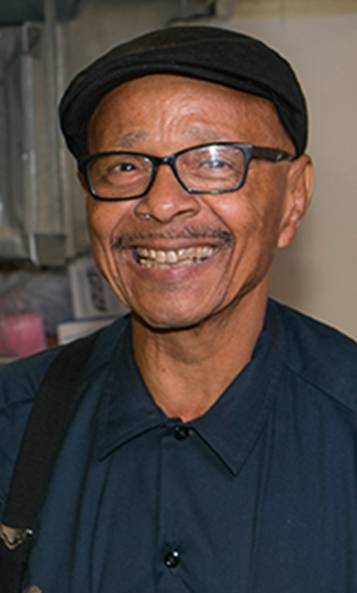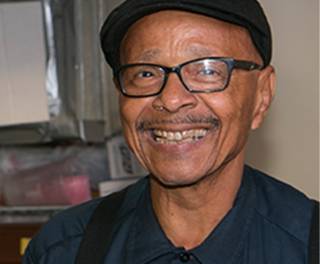 Gregory Dames
– Maintenance Mechanic, Engineering Services, Jackson Memorial Hospital
In 1979, I was a mechanic looking for a job. It was my older brother, Rodney Taylor, who suggested that I take a position at Jackson Memorial Hospital.
"It's a great place to work, with great benefits" said Rodney, who went on to work for Jackson Memorial for 35 years. I was in my 20s at the time, so benefits weren't at the top of my priority list, but I applied for and took the job anyway.
I began as a repairman – it's what I knew and what I was good at. It didn't take long for me to realize that I truly enjoyed what I was doing and where I was doing it. I prided myself on the work I did, and I knew I was considered a great employee because I would immerse myself completely in every project I was tasked with.
In 1984, I received my five-year pin from the Public Health Trust. There aren't enough words to express the joy I felt when I received that pin. It meant that I had made it a long way. It meant that I had proven myself and was successful in my own right. It meant the absolute world to me.
Almost 30 years ago, I joined the night staff and, as time went on, I began to be known for my work ethic. If I saw something that needed fixing, I would take care of it in the moment. My team knew me to always be the first one to clock in.
"Great benefits" became more important to me as I began to have trouble with diabetes, but the greatest benefit I found at Jackson was a second family who cared for me and my well-being.
As I drove to work a few years ago, I almost went into diabetic shock– I became disoriented and light-headed. It was the ring of my phone that snapped me out of it. My team at Jackson grew concerned when they noticed that I was not in the office when they arrived, and immediately called me. They talked me through pulling over, and I was able to take my medication. Ultimately, they saved my life.
I don't know where I would be had I not received that call. What I do know is that Jackson has truly taken care of me throughout my 39 years with the system.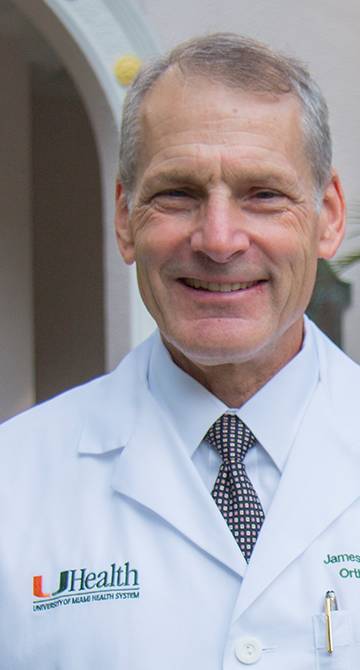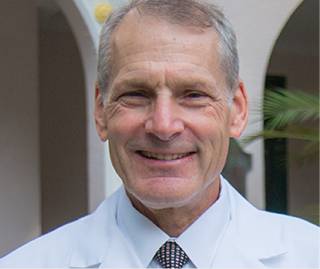 James Jackson Hutson, Jr., MD
– Orthopedic Trauma Surgeon, Ryder Trauma Center
Forty one years ago, I took my place in the field of medicine. I say "took my place" because health care is in my blood; my history is deeply rooted in its framework in South Florida. While some might say they chose a career in medicine, I was following in the footsteps of a pioneer, Miami's first physician, my great grandfather: Dr. James M. Jackson. I'm often reminded of him when I look at the mortar and pestle, used for mixing medications, that was given to me by my grandmother, Ethyl, Dr. Jackson's daughter. It's a tool that once sat in his very office in the early 1900s.
In 1918, Dr. Jackson made a lasting impact on what would become a flourishing metropolis with the construction of Miami City Hospital. With just 13 beds, he and his staff battled a deadly flu epidemic, provided care to populations that, at the time, some might have left behind, gave opportunities to up-and- coming healthcare professionals, and set the stage for what would become the renowned health system we know Jackson to be today.
Dr. Jackson's story, rich in civic duty and a strong sense of urgency to make communities healthier and happier, has permeated through my family for decades, and is one of the reasons why I found myself wanting to push his legacy forward.
After graduating from the University of Florida's College of Medicine in 1977, I chose surgery as my specialty. In doing so, I was also paying homage to my grandfather, Dr. Thomas Woodward Hutson, who was a surgeon and a former chief of staff at Jackson. I took that family lineage a step further by becoming a trauma surgeon at Ryder Trauma Center. Trauma does not discriminate. It does not know age, race, gender, or nationality. Through my work at the trauma center, I, like my grandfather and great grandfather before me, have been able to provide innovative care to some of South Florida's most vulnerable patients.
Jackson has been making miracles daily for 100 years. The intense commitment of everyone who works at our facilities is a testament to the good that we do for the community, one patient at a time, and to the world through the generations of care providers who have learned their profession at our hospitals and clinics.
The spirit that my great grandfather had in 1918 continues to be the guiding principle of the health system today. Jackson continues to be a beacon of light and hope for not just Miami-Dade County residents, but patients from around the world. The "Alamo," part of the original hospital, still stands as a symbol of how far we have come and how much we have grown. And here I stand, generations later, ready to fulfill my family's mission, and that of the health system, to provide the highest standard of care to every person who walks through our doors.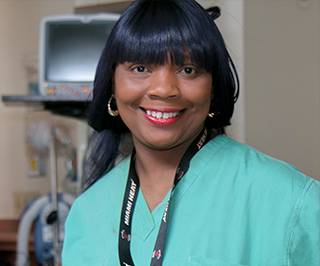 Ozabeth Sheffield
– Charge Master, Surgical Services, Jackson North Medical Center
It is one thing to work at a hospital where you witness patients receiving top-notch care every day. It is quite another when you become one of those patients yourself.
For years, I battled with my weight, trying all kinds of diet and exercise programs in an effort to reach my health goals. There were times when I achieved some success, losing a few pounds here and there. Yet, I would always gain them right back. I couldn't figure out why I wasn't able to maintain a healthy weight.
In 2008, I had just joined Jackson North Medical Center's Surgical Services team. It should have been a positive time for me, but I was at the end of my rope. After dieting for about 10 years with no luck, I was depressed about my lack of progress. At my lowest point, I reached 305 pounds, became diabetic, and developed hypertension, asthma, and knee pain.
It was then that my doctor recommended weight-loss surgery.
At first, surgery scared me. However, I soon realized it was the best option.
That same year, I underwent a gastric bypass procedure at Jackson North. I was happy to have my surgery at my place of work where the same great people I interacted with on a daily basis were the ones responsible for my care.
While I always boast that Jackson North's Surgical Services has one of the best and most compassionate teams, I can proudly say that I experienced their excellent care firsthand. Having the surgery was the best decision I ever made. Within a week, my life changed.
Every chance I get, I share my story and how the surgery saved my life. I am forever thankful for my Jackson North family, who, for a moment, became my caregivers. In that moment, I not only got to know my surgical team for the talented group that they are, but saw the lengths that they go to in order to change a life.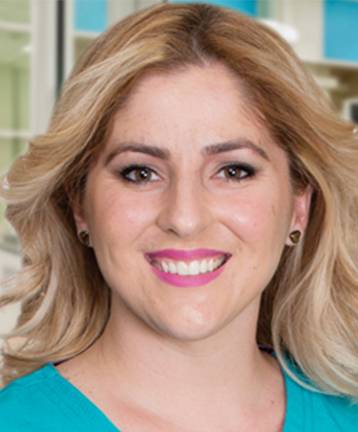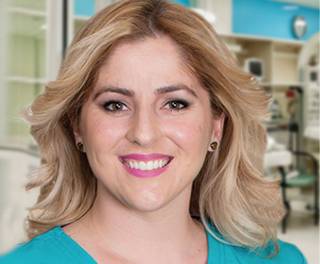 Isabel Rivero
– Registered Nurse, BSN, Newborn Neonatal Intensive Care Unit (NICU), Holtz Children's Hospital
Jackson Health System has always been a special place for my family. My twin sister and I were born prematurely and our lives were saved in the neonatal intensive care unit (NICU) at Holtz Children's Hospital.
When choosing a career path, I was drawn to becoming a nurse. I wanted to help people during their time of need, and I knew what an impact nurses have on their patients. In 2014, I landed my dream job, working in the Schatzi and Stanley Kassal Project: Newborn Neonatal Intensive Care Unit at Holtz Children's – the very place where my life was saved years earlier.
What makes Jackson so special is how many miracles we have made over the years. Because of the expertise of our doctors, nurses, and other medical professionals, countless lives have been saved. At Jackson, people who have been turned away by other hospitals are given a chance, and I am proud to work for a place with such a noble mission.
The most rewarding part of my job is seeing babies – some who were born as early as 24 weeks gestation – grow and thrive under our care, and then go home to begin life with their families. Many of our patients even come back to visit us years later, healthy, happy, and forever grateful.
I am part of a dedicated team that is passionate about providing the best care for our patients and their loved ones. I am proud to work at the place that saved my life, and continues to make miracles for countless other families.